Shaped desks
Lightweight and sturdy desks, with shaped top, are an innovative and flexible furnishing solution, the result of a careful study on the current needs of 3.0 schools to have a single workstation optimized for group work, within environments where space must be easily and constantly remodeled.
Their shape allows the creation of islands with 6 tables taking up little space.
Two models available: with fixed top (BT) and with folding top (BR)
BT version Dimensions: cm 76 x 58 x 64-71-76 h
BR version Dimensions: cm 84 x 56 x 76 h
Description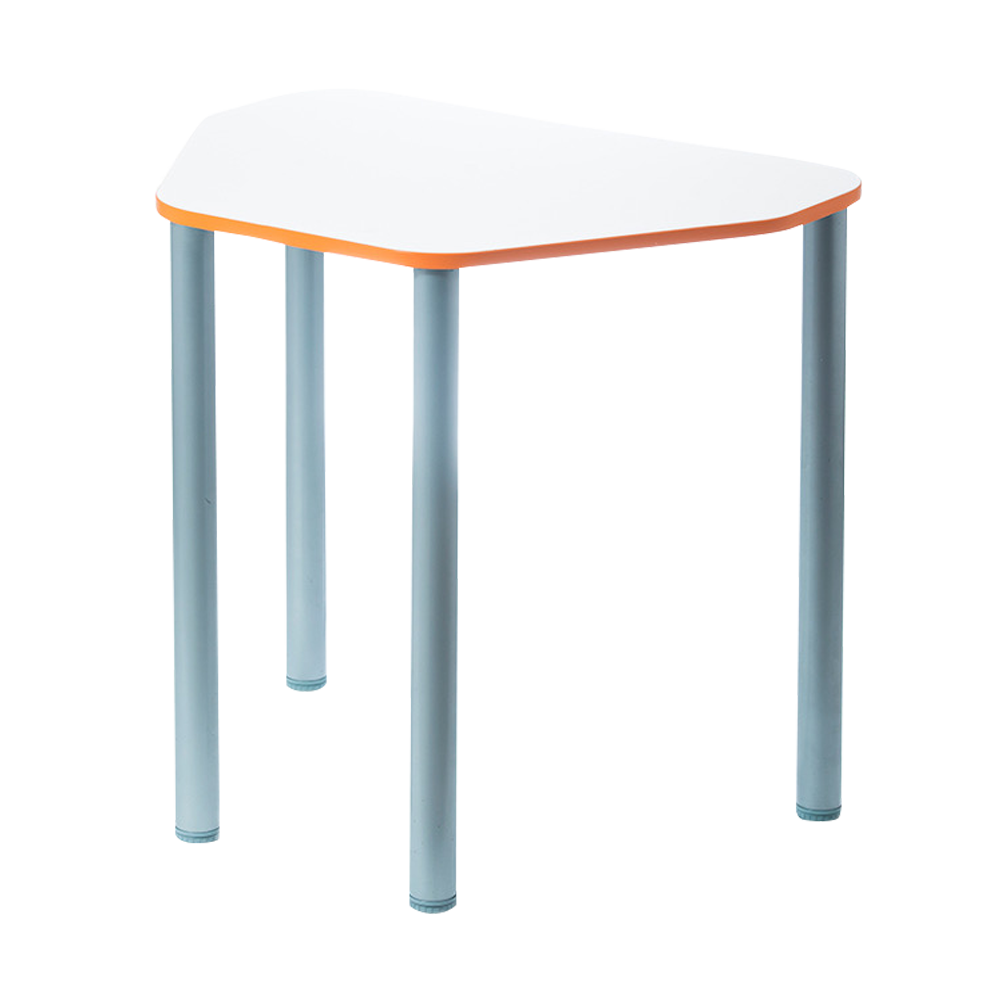 You may also like…
Single-seater desk with adjustable elevation and inclination with birch multilaminated top 90x65cm. Tubular frame Ø 45 mm thickness 2 mm. Upper joint part made of a square tube size 35x2 mm, shaped in order to avoid obstructions to the disabled user. Four adjustable feet to get better stability, two wheels recessed inside the tube, which allow the teaching staff to easily move the desk from a classroom to another. The upper side height can be adjusted by means of a two chromed and calibrated columns sliding inside two high strength PVC bushes, driven by a removable crank, which allows a millimetric regulation of the working top from 62 to 85 cm. Adjustable inclination by means of an endless screw controlled by a side-mounted recessed crank, which allows an inclination from 0° to 25°. The gradual adjustment allows meeting any ergonomic and visual requirement of the desk's user. The top is made with an accentuated recess towards the inside to allow the support of the forearms of the disabled student. The perimeter of the worktop has a Ø 18 tube border that prevents objects from accidentally falling, it is also equipped with a pencil holder in the upper part and a graduated ruler in the lower side.
Contact us
School desks made up of sturdy tubular legs, 20 mm thick melamine wood tops in different sizes, edges in solid wood or abs. Antislipping, anti-rust and shockproof feet. Polypropylene or metal storage drawers for teaching material available in different heights. Single and double desk available
Solid teacher's desk, with perimetric rectangular tube frame 40 x 20 x1,5 mm, round tube legs Ø 40 x1,5 mm. Epoxy powder coating. Legs panels and drawers in chipboard mm. 20 2 sliding drawers with back stop.
Lock on top drawer. Handles on both drawers. Dimensions: cm 130x70x76 H